Frontida Management Group
We Are Owners Helping Owners Protect Their Investment
Our Secret Sauce
Frontida Management Group (FMG), understands its clients' need to protect their assets and increase profitability. Steve and Crystal Miller own and operate five of their own facilities and see themselves as owners helping owners protect and improve their equity. Along with their team, they manage the teams, operations, and facilities, with the same values that have made them successful as operators in assisted living.
Frontida Management Group is comprised of dedicated team members consisting of two involved owners, a Vice President of Operations, Vice President of Sales, Director of Finance, Director of Operations, Director of HR, Director of Healthcare Services (RN), and support staff in each department.
FMG's team will analyze new opportunities for investors, work with the State of Wisconsin for licensing, open new facilities, ensure quality care and compliance, oversee HR functions, and implement and promote the Frontida culture that has created award winning teams!
We truly care…for all the right reasons.
Our Growth
FMG is growing because we Build Trust with investors and owners. Steve and Crystal Miller, the owners of FMG, own five assisted living facilities. As a result, owners benefit from our unique approach to treating their properties like our own. We understand long and short term strategies of management and we will help you maximize your investment outcome.
Locations
Our Team
FMG invests in our leadership so that we can provide a large spectrum of experience. Our executive team has two nurses, a nursing home administrator LNHA, several business professionals, a marketing team, and an HR team. Our CEO, Crystal Miller, is the current Chairman of the Board of the Wisconsin Assisted Living Association.
Learn More
Our Culture
FMG invests in a workplace culture that follows our company values of Tell the Truth * Work Hard * Follow the Rules * Love Others * Have Fun. As a result, we have won the Milwaukee Journal Cenntental Top Work Place award six years in a row. In addition, FMG consistently holds training and workshops for all levels of team members, giving them the tools they need to develop communications and leadership skills.
Learn More
Why Choose Us?
In a word: experience
For over a decade, the leadership team at Frontida Assisted Living has been known as "the fixers." Crystal Miller has proven to be a leader who can solve problems. As a result, FMG's portfolio has grown because we understand the financial issues (for the owner) and recognize the lack of resources a facility might have in systems that the FMG team can provide. The key to our success is coming together to find a solution based on the owner's goals and resources.
Frontida Management Group will continue this legacy of problem-solving. Our experienced team of executives will bring solutions in leadership, operations, clinical compliance, marketing, financial reporting, human resources, back-office administration, and most importantly, award-winning teamwork and culture development to tie all of the pieces together.
As owners of Wisconsin-based CBRFs, Steve and Crystal Miller care about what owners care about and will lead their team to protect your asset in the same manner they are protecting their own.
In addition to focusing on stable operations, Crystal has invested in the long-term care industry through significant advocacy work at the state level. Crystal is currently the Chairman of the Board for the Wisconsin Assisted Living Association.
Frontida Management Group Growth
Frontida Management Group
How We Protect Your Investment
Financial Partnership
Our accounting department will help you set a realistic budget based on our experience. We know how to save money where it counts and invest money for the most significant return. Our monthly reporting will give you the tools to make valuable decisions. We value open communication and welcome questions and ideas. We treat your investment like our own.
Compliance Partnership
Our operations teams take compliance seriously. We stay up-to-date on the State code and hold regular internal operation audits in your facility. In addition, our staff follows monthly, weekly, and daily checklists to keep your facility safe and compliant.
Care Partnership
Our team of health care professionals oversees the health and wellbeing of the residents in your facility. We keep our residents healthy and out of the hospital through training, charting, and onsite evaluations. Your team will feel supported and have the resources at their fingertips to make critical decisions regarding the health of your residents.
Awards and Accomplishments
Frontida's Accomplishments
2021 BizTimes Profile
2021 Heart of the Valley Chamber of Commerce
2018 Ovation Awards — Crystal Miller is awarded Entrepreneur of the Year
2017 Ovation Awards – Frontida Assisted Living receives the Fast Five Ovation Award
Speaking engagements and events
Testimonials
Learn how we care for our residents
"Frontida is a lovely home. I can see why people in the community speak so highly of Frontida Assisted Living!"
Barb W.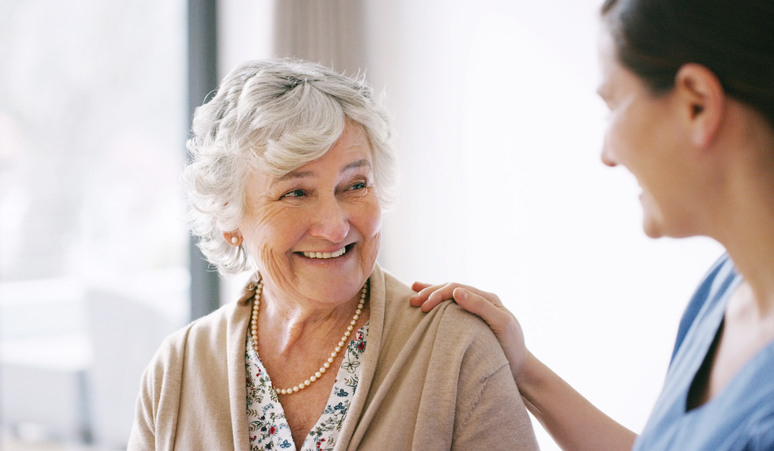 "Since coming to Frontida, my niece is talking more clearly, socializing, and doing activities that she wouldn't do before."
Resident's Aunt
Your mission to build trust is what drew me in from the beginning when my siblings and I were looking for a memory care home for mom. In the short time she has been there you have shown so much care and love to her.
Debbie Giles
"My cousin absolutely loves it at Frontida Assisted Living. She loves the people, loves the home, and really enjoys mingling with other residents."
Resident's Cousin
I am so grateful to have such a wonderful home for me to place Don in. I'd love to have him with me but cannot believe how happy I am to have Frontida and the great staff to take care of him–and me too. Thank you so much!
Mary
Contact Us
Have Questions?
"*" indicates required fields