Searching for Top-Quality Assisted Living and Memory Care in Southeastern Wisconsin? Welcome to  
Frontida of Germantown
Access the best in assisted living and memory care for seniors at Frontida of Germantown
Frontida of Germantown, WI is ready to offer you the best in assisted living and memory care for seniors
Are you in need of assisted living or memory care support for a cherished loved one with increased daily needs?
Frontida of Germantown is here to offer you the specialized support and compassionate care your loved one needs and deserves.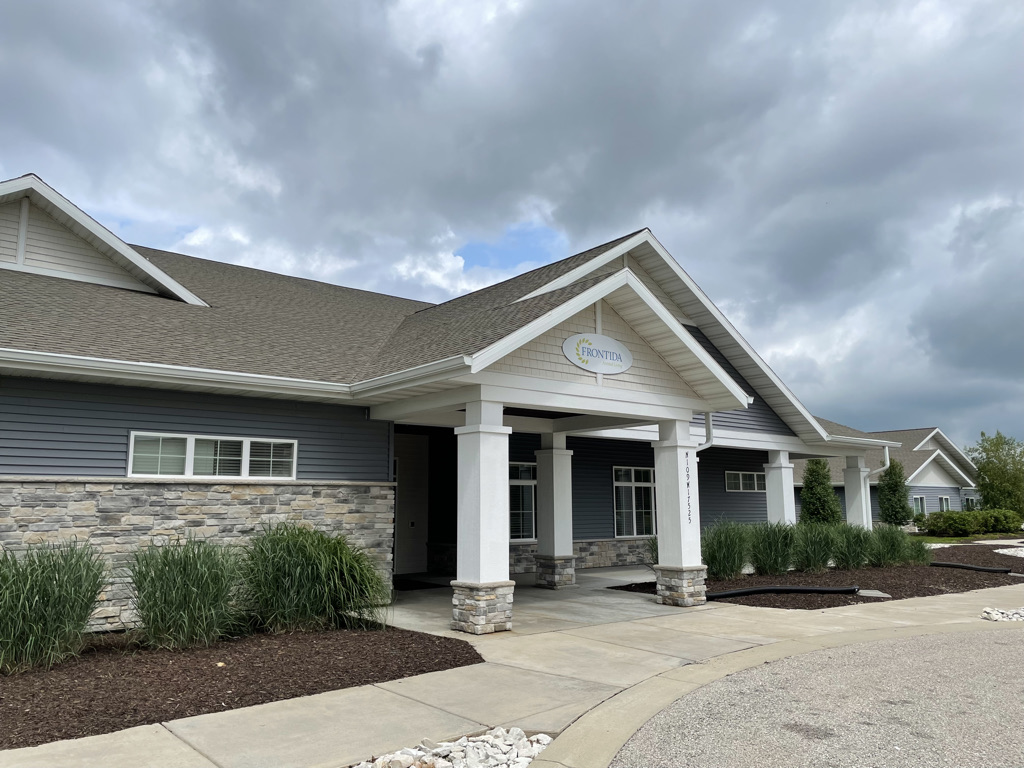 We're proud to offer both assisted living and memory care options for families in need, all in a convenient, secure location in beautiful Southeastern Wisconsin.
Interested in learning more about our special assisted living and memory care community in Germantown, WI? We'd love to support you in your senior living journey.
What's life like at Frontida of Germantown?
Our spacious senior living community features an open layout, with natural stone finishes that echo the natural beauty that surrounds us.
Your loved one with daily assistance and cognitive care needs will soon feel right at home in our warm, welcoming community, and will feel confident navigating the familiar surroundings.
Our lovingly maintained grounds feature level green spaces to enjoy the sunshine, paved pathways to be traversed by those with all mobility levels, and a gathering of rocking chairs, just waiting to be enjoyed by residents and their visitors alike.
Our pastoral setting on the outskirts of town offers residents and visitors many chances to encounter and commune with nature. Our community members regularly enjoy watching the antics of local turkeys and deer from our living room windows.
Our security measures offer you peace of mind, while providing our residents with a sense of empowerment and independence.
Our delayed egress doors ensure residents are always secure in our community walls, and our state-of-the-art RCare Safety system provides all our community members with personalized pendants, call buttons, motion sensors, and silent alarms for top-notch resident safety.
Our signature memory care programming was designed to provide the best in comprehensive, customized care for people who have dementia.  
Frontida Assisted Living is a name you can trust when it comes to top-quality senior care. They've provided award-winning care since 2009, throughout Southeast Wisconsin. At Frontida of Germantown, we truly care about the holistic wellbeing of every resident and make it our mission to enrich their day with happiness, fun, and laughter. We'd love to show you around! Book your free in-person tour today to see our wonderful memory care and assisted living community for yourself.
Frontida of Germantown assisted living and memory care residences
At Frontida of Germantown assisted living and memory care, we believe our residents' comfort and safety are always top of mind. That's why our tight-knit senior living community was designed with our valued community members in mind.
With 28 private resident suites and four companion rooms available, you're certain to find the senior living lifestyle you're seeking at Frontida of Germantown.
Our resident suites are available fully-furnished, semi-furnished, or unfurnished. They can be set up to accommodate your loved one's favorite furniture, décor, and cherished personal possessions.
Prices Starting at : $5,895
You have questions and Frontida has answers
At Frontida of Germantown, we take great pride in offering top-quality memory care and assisted living service to the people of Southeastern Wisconsin.
When your loved one calls our wonderful senior living community home, you can expect access to the best in senior care programs and services, including:
Personalized care plans, created to suit each resident's unique daily care needs and preferences
A revolving roster of fun, meaningful activities and events to enjoy
Medical professionals always available to attend to your loved one's health and wellness needs
Expert support and assistance with activities of daily living
Housekeeping and laundry services
Delicious home-cooked meals and snacks
Round-the-clock care and supervision by highly trained professionals
Access to our extensive network of outside physicians, specialists, and therapists
Open lines of communication, so you always know what's going on
Just because your loved one can no longer live independently doesn't mean they don't deserve to feel at home. Frontida of Germantown is dedicated to offering our residents the home-like environment they want, coupled with the care and amenities they need to thrive.
Our Frontida of Germantown assisted living and memory care community features—
Accommodations and accessibility for those using canes, walkers, and wheelchairs
Private and comfortable living spaces to gather with family and friends
Private courtyard patio and backyard area, a beautiful place to soak up sunshine and socialize in a secure environment
Beauty salon with top-quality services
Have specific questions or need personalized support? We'd love to help you decide if Frontida of Germantown is the right assisted living and memory care community for your family's needs. Reach out anytime!
Contact Frontida of Germantown
Germantown ~ Memory Care & Assisted Living Community