Welcome Home to Frontida of  
Manitowoc in Manitowoc, WI
Your loved one deserves assisted living and memory care in a senior care community that feels like home
Frontida of Manitowoc offers top-quality memory care and assisted living in Manitowoc, Wisconsin
At Frontida of Manitowoc, we pride ourselves on providing professional, compassionate care you can trust in beautiful coastal Wisconsin. Our east central Wisconsin location makes us a convenient and ideal senior living choice for families in Wisconsin and beyond.
Veterans, it's our duty to care for you.
At Frontida Assisted Living, we hold our nation's heroes in the highest regard. When a Veteran chooses Frontida Assisted Living, they are joining a compassionate community that recognizes their unique needs and values their remarkable contributions.
Our memory care and assisted living community campus is situated close to the heart of the city of Manitowoc, yet it feels removed from it all with our rural, country feel.
Here, we care deeply for the personal needs of our valued residents, and make it our mission to infuse their days with enjoyment, purpose, and meaning.
Frontida Assisted Living is a trusted leader in senior living, since they began providing award-winning care in 2009.
Our senior living community offers top-quality care for the residents who call our community home, and peace of mind to their loved ones, who know they're always receiving the very best in personalized support and compassionate care.
Interested in learning more about our Manitowoc, WI assisted living and memory care community? We'd love to answer your questions and help you in your senior living journey.
Why choose Frontida of Manitowoc for your memory care and assisted living needs in Wisconsin?
When you have a loved one in need of more daily support and care than you're able to provide, it can cause a great amount of stress and worry in your life—for you and for them.
You worry they may trip and fall or forget to turn off the stove or faucet. You lay awake at night, wondering if they're getting enough to eat and drink, or if they really remember to take their medications like they say they do.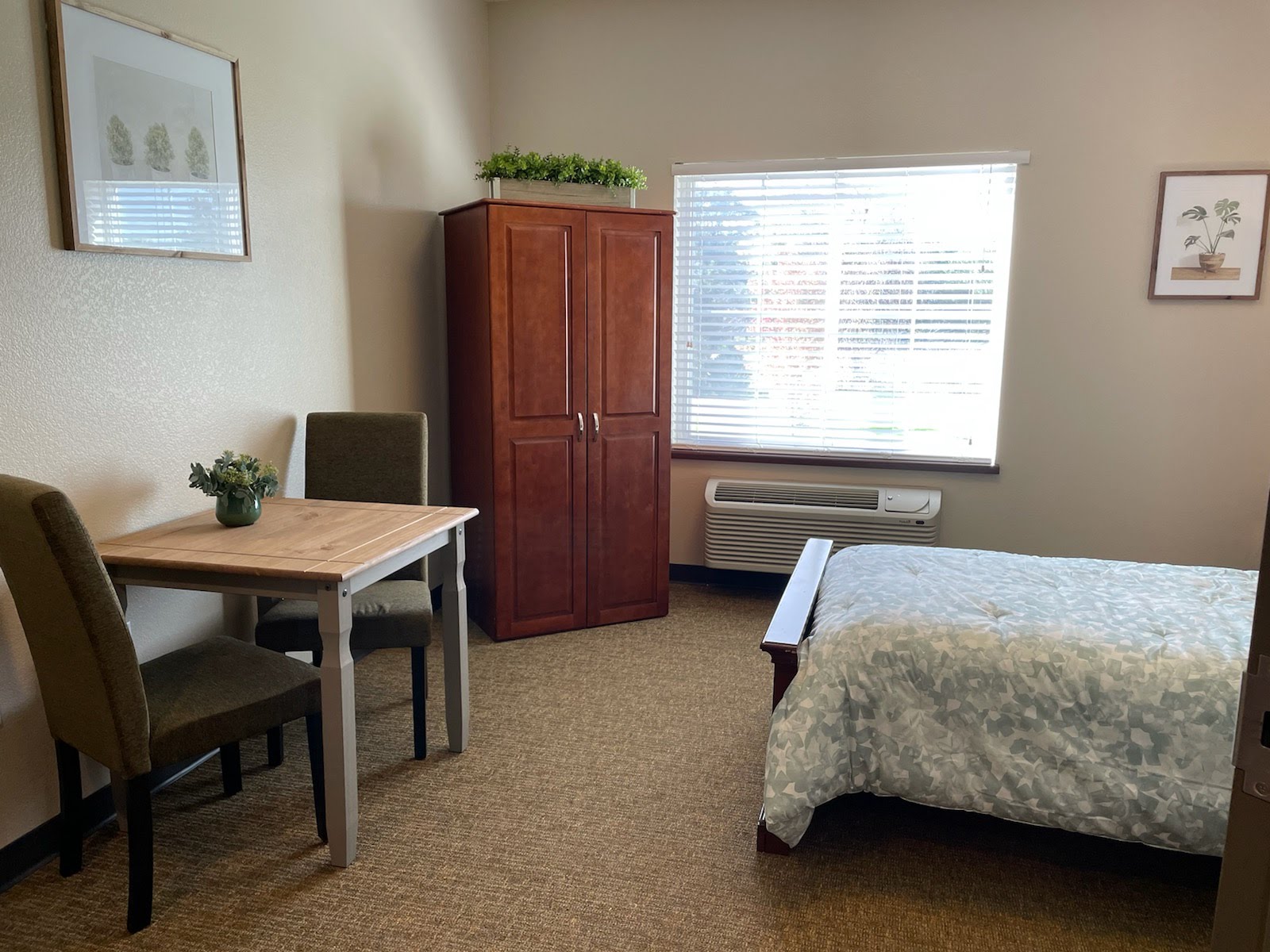 Imagine all your worries and stress evaporating, while knowing your loved one is getting all their needs met with compassionate support from trusted care providers… Imagine visits with them being focused on the joys of sharing time together, rather than fraught with caregiving duties… Imagine watching their zest for life return, as they're surrounded by friendly faces and offered a full calendar of fun, exciting activities and programs to engage in…
How would this change both of your lives for the better?
At Frontida of Manitowoc, we're invested in giving families back the connection and lives you deserve. If you're ready to get your loved one the customized, comprehensive care they need, while unburdening yourself from the stress of caregiving and scheduling—we are here for you.
Our senior living and memory care community is backed by the Frontida Assisted Living name. A trusted leader in senior living since 2009, Frontida is honored to offer award-winning senior living and care to Wisconsin families in need.
Interested in learning more or touring our Wisconsin assisted living community? We're here for you! Reach out anytime to access our personalized support.
Frontida at Manitowoc residences
Frontida at Manitowoc offers a variety of senior living apartment options for our valued memory care and assisted living community residents in our Manitowoc, WI senior living residence.
Prices Starting at : $5,475
You have questions and Frontida has answers
When you trust Frontida of Manitowoc with your senior living and care needs—we pledge to offer you the very best in personalized, whole-person care.
Senior assisted living and memory care programs and services you can expect at Frontida of Manitowoc include:
Customized care plans; designed to meet the unique needs of each resident we serve
A Dedicated Life Enrichment Coordinator; who plans and schedules a wealth of meaningful activities and events for our residents to enjoy
Expert nursing staff, to support and uplift loved one's health and wellness
Round-the-clock support and assistance with daily living tasks like grooming, medications, bathing, and getting around safely
Housekeeping and laundry services
Chef-prepared meals and delicious snacks
Access to our trusted network of visiting physicians, nurses, and therapists
And open lines of communication, to ensure you're always up to date on your loved one's life here
Frontida of Manitowoc is proud to offer a senior living community that's designed to meet the needs of our assisted living and memory care residents.
Our assisted living and memory care community features—
Full accessibility for all mobility levels, including those using canes, walkers, and wheelchairs
Access to both private and companion suites
Fully-furnished, semi-furnished and unfurnished rooms available
Private, comfortable living spaces to enjoy with friends and family members
Our private courtyard patio and backyard area, offering lovely outdoor spaces to enjoy the fresh air
Our onsite beauty salon
Contact Frontida of  Manitowoc
Manitowoc ~ Memory Care & Assisted Living Community