Welcome to Frontida of
Elkhorn 
Frontida of Elkhorn is Waiting to Welcome You Home
Assisted Living and Memory Care in Elkhorn, WI
Picture your loved one with dementia enjoying the comfort and familiarity of a purpose-built home that's designed just for them. Frontida of Elkhorn is ready to offer you what you've been seeking in senior living and care: specialized support and compassionate care in a small community setting specifically designed for people with memory loss.
Resident Safety
You'll enjoy the peace of mind that comes with knowing they're safe and secure in a community that offers enhanced safety features, like delayed egress doors.
Resident Purpose
Your loved one will rediscover their purpose and spark, while enjoying fun activities and events and delicious meals made from scratch.
Resident Care
They'll soon feel a sense of peace as they get to know our dedicated, caring team who are committed to providing comprehensive, customized care to each one of our valued community members.
Frontida of Elkhorn Residences
From private to companion suites, fully furnished options to those you fill with your loved one's own cherished possessions—you're sure to find the perfect layout for your senior assisted living and memory care needs at Frontida of Elkhorn.
Prices Starting at : $5,500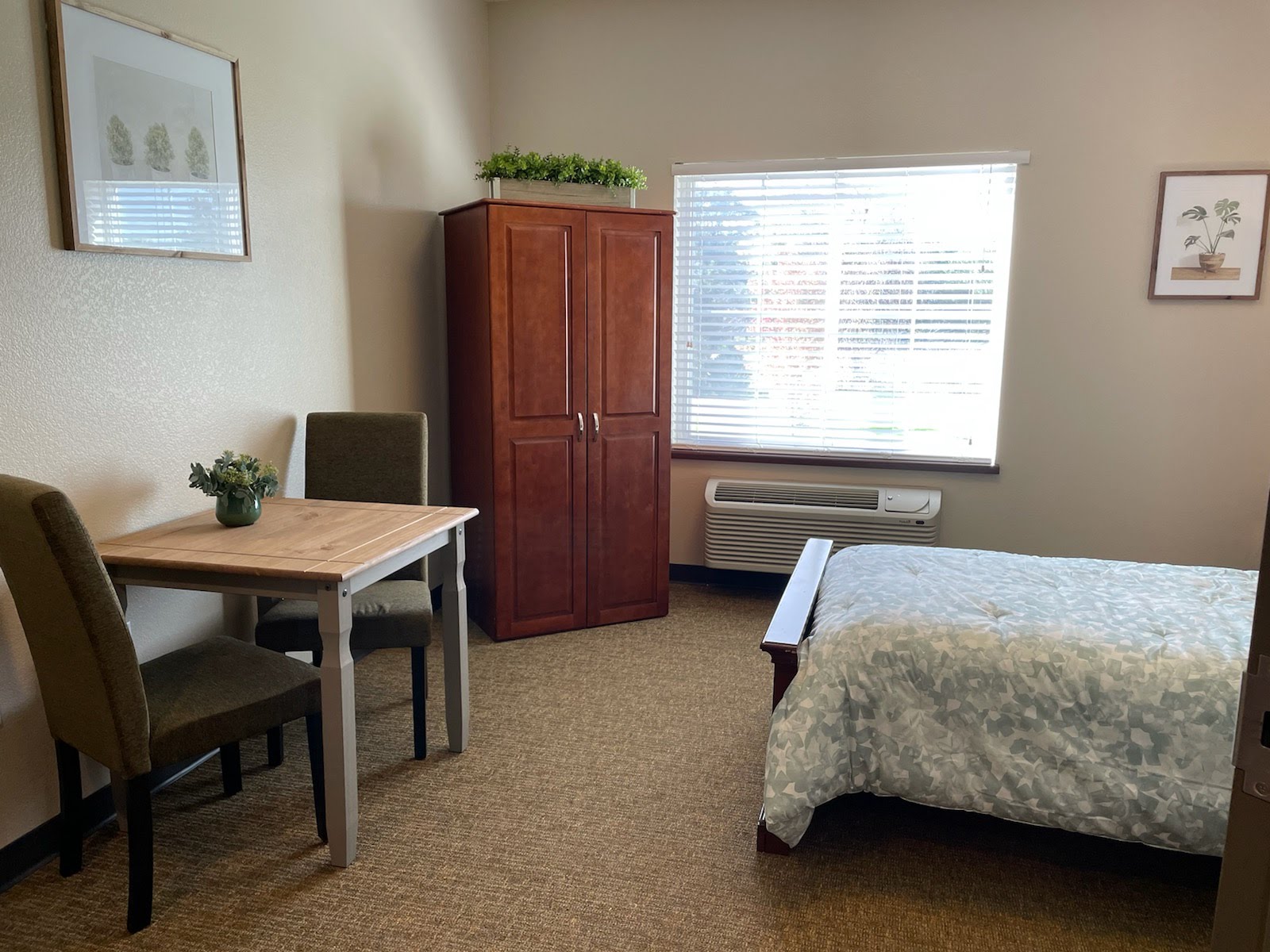 You have questions and Frontida has answers
We're proud to offer an array of exclusive programs and services at our Frontida of Elkhorn assisted living and memory care community in Elkhorn, Wisconsin.
When you trust us with your love one's senior living and care, you can expect: 
Individualized care plans to suit each resident's level of care and personal interests, while also encouraging healthy social interaction
Dedicated Life Enrichment Coordinator to plan and schedule meaningful activities for all
Dedicated Registered Nurses (RNs) to oversee your loved one's health and wellness
Daily assistance with personal grooming, medication, mobility and similar tasks
Housekeeping and laundry services
Delicious home-cooked meals served three times daily with snacks between
24-hour supervision provided for residents' safety and wellbeing
Team of compassionate caregivers who interact authentically with our residents
Access to our trusted network of visiting physicians, nurses, podiatrists and therapists
Regular communication with our residents' families to keep them you to date
At Frontida of Elkhorn, we're here for our residents. That means providing everything they need to enjoy a life of peace, health, and security.
We're also invested in giving you back the peace of mind you deserve, knowing your loved one is receiving the customized care they need in a community that feels like home.  
Frontida of Elkhorn amenities include: 
Accessibility accommodations throughout for canes, walkers, and wheelchairs
Fully-furnished, semi-furnished and unfurnished rooms available
Private and comfortable living spaces to gather with family and friends
Private courtyard patio and backyard area, a beautiful place to soak up sunshine and socialize in a safe environment
Beauty salon and spa for in-house pampering and self-care
Frontida Assisted Living has provided award-winning care since 2009 throughout Southeast Wisconsin. At our Elkhorn location, you'll receive the best in assisted living and memory care services, because great care is the Frontida way!
We truly care about the holistic wellbeing of every resident and make it our mission to enrich all our community members' days with happiness, fun, and laughter.
At our Elkhorn community, your loved one will enjoy an array of top-notch programs and services, with expert care provided by our handpicked team of compassionate caregivers and healthcare professionals.
Have questions, or need personalized support?
We'd love to help!
Reach out today to our expert team for all the info you need or to schedule your free in-person tour of our beautiful Elkhorn, Wisconsin assisted living and memory care community.
Elkhorn ~ Memory Care & Assisted Living Community