Every day's a great day for a gift for the grandparents.
Grandparents' Day, birthdays…or just to say "I love you."
And there are great presents you can buy, even for your favorite seniors who have everything. We've covered some special gift ideas in both our Christmas gifts post and our Valentine's one, most of which really work year round.
But if you'd like to give something truly unique, how about going home-made, the perfect chance to show Grandma and Grandpa how much you care while creating a keepsake. In today's post Frontida goes over some incredible, homemade gifts you can make for the special seniors in your life. Read on to learn more.
Frontida Assisted Living Facilities, such as the Frontida of Germantown, a Senior Living and Memory Care Community, provide you with posts like this one to help you live your best life.
1. DIY Handprint Plates
When I was growing up, we ordered a kit to make these plates and sent them off to be finished. But now you can do the whole thing at home.
Just pick up an oven safe plate and trace all your littles' hands on it, using glass paints like the Pebeo Porcelaine brand or this Zeyar paint marker collection. The plate becomes completely usable for eating and washing by baking your handprint work of art in your own oven.
Directions vary for how long and at what temperature you bake them, so read instructions carefully for the paint brand you choose! It could be anywhere from 300-400°F and around thirty minutes or so in the oven.
When you paint,
Choose a different color paint marker to outline each handprint.
Layer handprints largest to smallest or fan them out around the plate.
and Label each with color-coordinated names and ages.
Thankfully, if you haven't baked them yet, most glass paints can be scratched off and redone if you make a mistake.
However, if you're worried your littlest handlers will get ticklish and move while you're outlining, trace their hands on paper, cut the handprint out, and retrace it on the plate. (If you do that for everyone, you can even experiment with the best layout for all the hands before you start painting the actual plate.)
If you like the idea but you don't want to purchase all the supplies yourself, search for a local paint-your-own-pottery studio near you. There, you can paint your grandparents' favorite colors and patterns on a special candy dish using all the materials the studio has to offer.
2. DIY Falling Leaf Globes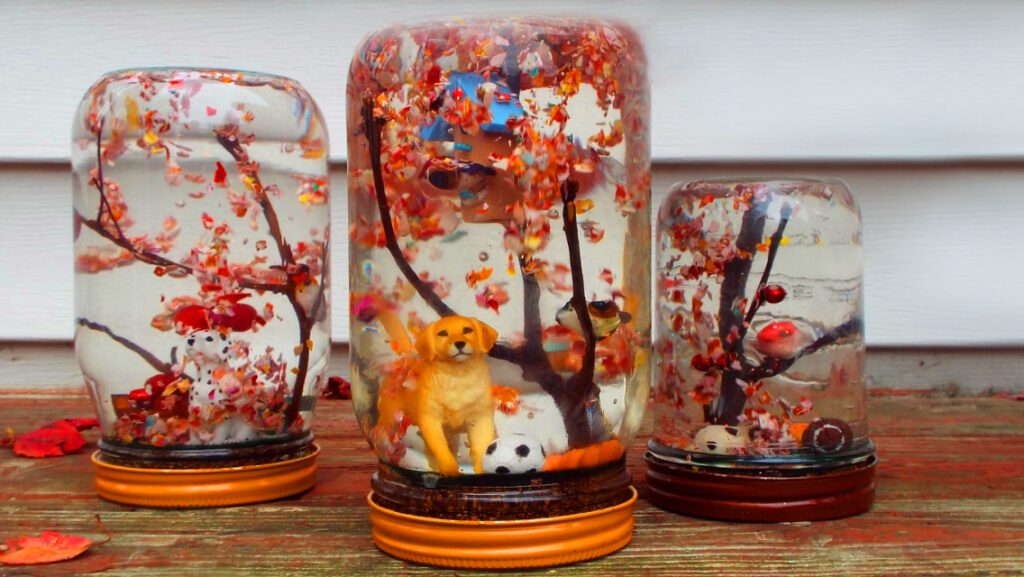 Fall is just around the corner. And these magical falling leaf globes (made out of dyed eggshells) are completely magical for grandparents and grandkids alike.
For your scene under the glass,
Use small trinkets from around the house or have fun shopping for the perfect objects at your local hobby store or online.
For the tree branches, grab a small twig from outside.
Be sure to use glass jars, not plastic jars, because the plastic doesn't tend to be watertight. (Believe me. BIG mess!)
For step-by-step instructions, check out this Falling Leaf Globes post.
Of course, it won't be fall for ever, so come December, why not make winter wonderland snow globes? (leave the eggshells white.)
And in spring, just think of the cherry blossom globes. (white, pink, and red dyed eggshells.)
You'll only be limited by your imagination. But Grandma and Grandpa will love them all.
3. DIY Picture Books
Grandma and Grandpa have wonderful life stories, both from their childhood and from the times they've spent in yours.
So plot those stories as text in a picture book and let the grandkids illustrate.
Where to get the book?
Simply sew a stack of printer paper together in a book format, (yep, just a straight zip on a sewing machine), and then glue cardstock or cardboard to the outside for the cover.
Or pick up a blank book that's already put together and ready for you to add the story.
If you want a professionally printed book after you write and illustrate the book, that works, too.

4. DIY Handprint Sweatshirts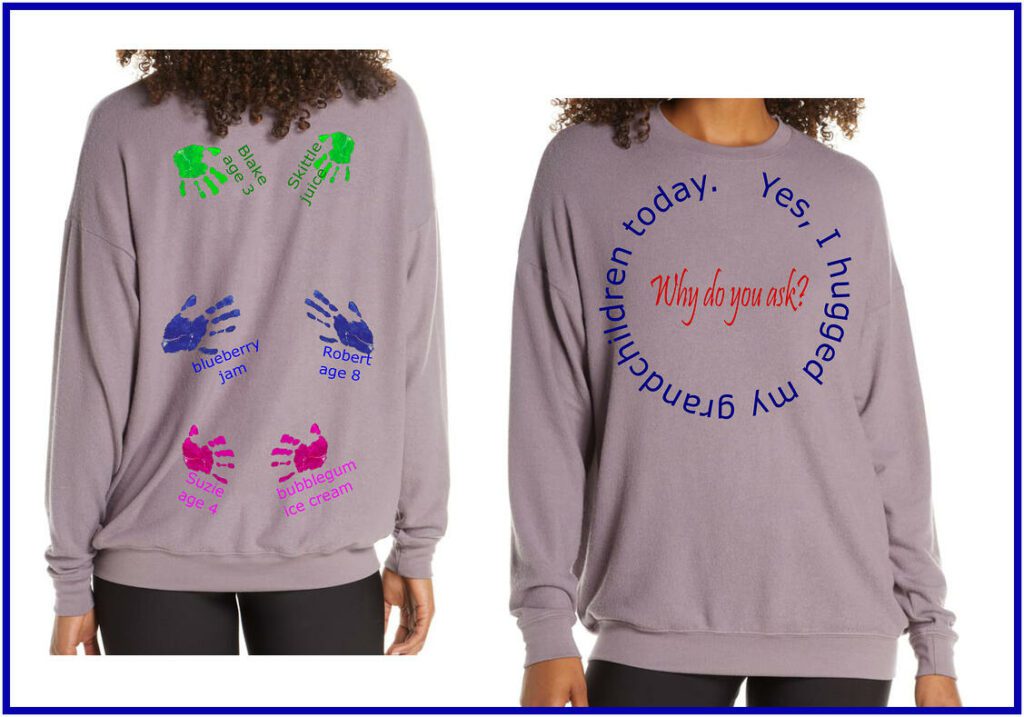 This sweatshirt doesn't just give Grandma and Grandpa a great keepsake. It'll also give them a good laugh.
What you'll need:
A nice fitting sweatshirt or shirt
Fabric paints and markers
A paper or plastic plate to hold paint for hand dipping
Grandchild hands
Memories of all the types of food the grandparents have accidentally gotten on the back of their clothes after those sweet—and sticky—grandkid hugs.
For the front graphic?
Type out "Yes, I hugged my grandchildren today. Why do you ask?" (or some other funny grandparent saying) on any graphic design program like Canva. Print it out and trace using fabric tracing paper OR print it directly on iron-on fabric paper.
5. DIY Quilt Blankets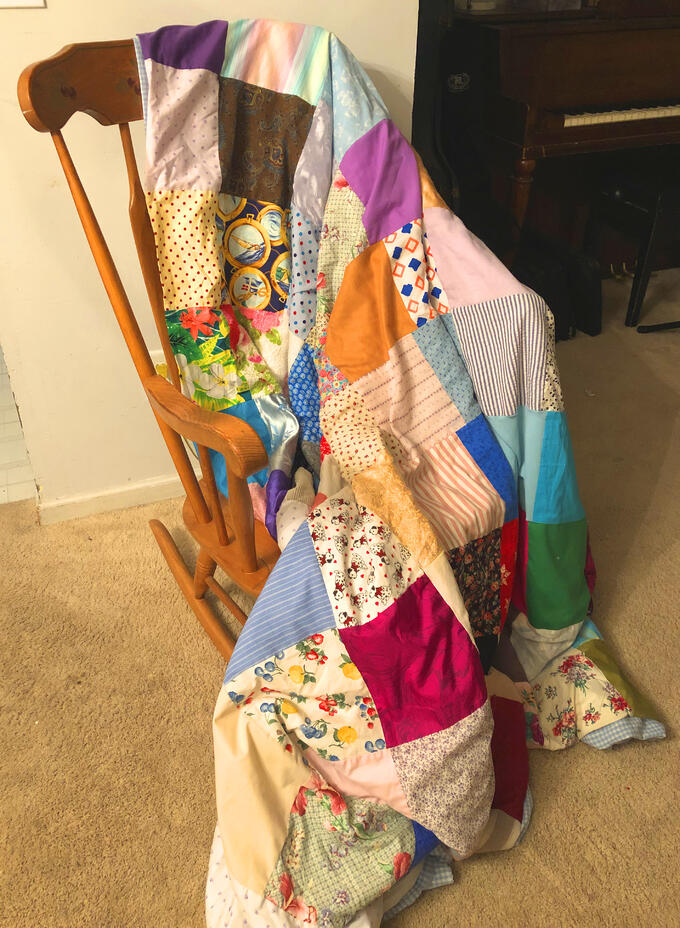 This gift is especially great if Grandma is a crafter/ sewer with tons of old fabrics lying around.
If she isn't, that's okay. Look for old garments that have too many memories to throw away—and upcycle them.
Cut simple squares, preferably all the same size, from the fabric or garments
Pin the edges, right side together, and stitch with about ¼ inch seams on the sewing machine. (This is a great chance for the grandkids to try their hand at the machine.)
Combine squares to make the quilt as large as you want. It could be the size of a bed comforter or a comfy throw.
If you'd like a warmer blanket, tack quilter's batting to the back of your quilt. Or leave it off for a light summer coverlet.
Choose one large piece of fabric for the blanket's backing. Stitch right sides together to the front, leaving a small section unstitched so you can turn the blanket right-side-out.
Once you've turned it, hand-stitch the small section closed.
My children made one of these blankets for me (pictured above) when they were in elementary school, and it's one of my favorite gifts of all time.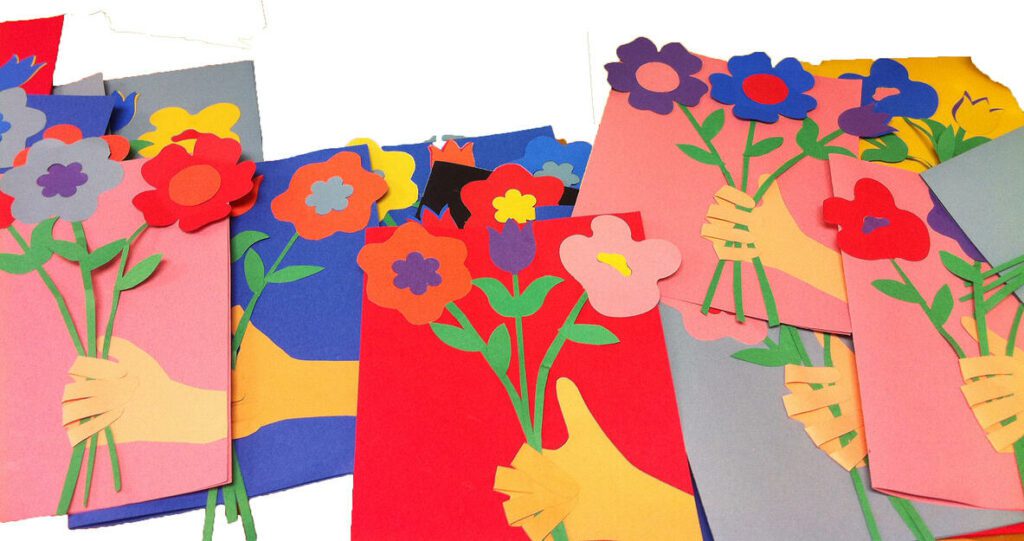 While gifts for Grandparents' Day, birthdays, and Christmas are fun, sometimes Grandma and Grandpa could use a thoughtful gift when things aren't so sunny.
Maybe they've been sick. Maybe they've lost a good friend. Maybe they're just feeling blue.
For those hard days, these cards are great gifts to encourage them.
For the cover:
Fold a large piece of colored construction paper in half to make the card
Trace your child's hand and some of his arm on another piece of construction paper and cut it out.
Glue the arm and the back of the hand near the bottom of the card. Don't glue the fingers yet.
Cut out stems and flower parts from different colors of construction paper.
Glue the flowers on the construction paper, setting the stems in the open hand
Bend the fingers over the stems and glue them down.
For the inside text:
I'm sure you've heard the lyrics to Sound of Music's "Raindrops on Roses."
When the dog bites, when the bee stings, when I'm feeling sad—
I simply remember my favorite things, and then I don't feel so bad.
This is a Raindrops-on-Roses inspired gift.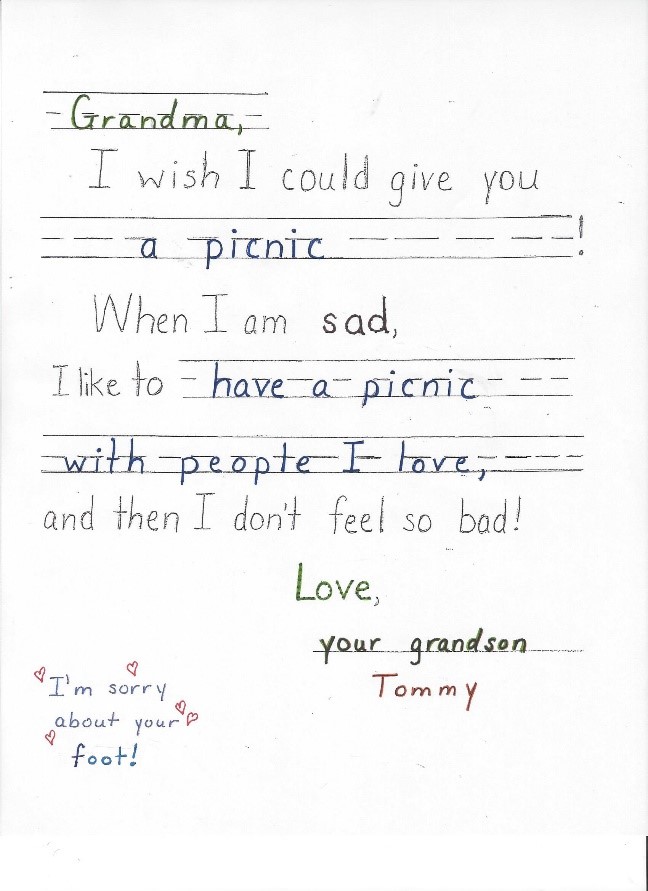 Have your children think of what makes them feel better when they're sad. Ice cream? Hugs? An evening catching fireflies?
Help them write how they'd like to do that with their grandparents. It may not be possible, but that's okay. It's the desire that will be encouraging.
Older ones can, of course, write it by themselves. Let younger ones write as much as they can, but you could write the letters very lightly and let them trace.
Let them add a special note and illustrate it however they'd like.
It's a super-simple gift, but it means a lot—because it's really about giving their heart.
While Homemade Gifts Don't Have to Cost A Lot, They're Priceless
Gifts for Grandma and Grandpa don't have to be expensive. But the time you put into them will mean the world to them. Crafts are great activities for seniors and kids alike, and grandparents will appreciate anything they are given.
Who knows? These gifts may even become the family heirlooms that your kids show their grandkids down the road.
If Grandma or Grandpa need a new place to live, visit one of our assisted living communities. At Frontida Assisted Living, we treat your loved ones as if they're our own family. We provide kind and professional care to all of our residents, and we are dedicated to keeping your loved ones safe and happy. Contact us to schedule a tour today.
Here are more great gift ideas for Grandma and Grandpa for other holidays and celebrations.
Images are the property of Elizabeth Daghfal and are used by permission
Elizabeth Daghfal is a writer, teacher, speaker, and community volunteer. When she isn't teaching or writing-- Who are we kidding? Her husband and five kids say she's ALWAYS teaching and writing. She has a passion to help people who are struggling and is happy to say her shoulders are drip-dry. Born and raised in the South, she now lives in Wisconsin and loves it--except for the fifteen months of winter. Read more about her at elizabethdaghfal.com.